#NGWSD 2018 #GIRLPOWER
Such a #GIRLPOWER day!
Thank you to Kyoko Ina for taking the time to visit our school 
  We loved hearing about your experiences in sports, figure skating and especially at the Olympics! You shared that you must have commitment, trust in your pairs' partner, and some sacrifices along the way. You also encouraged us to "Get Up" when we fall or fail. Keep trying…and never give up.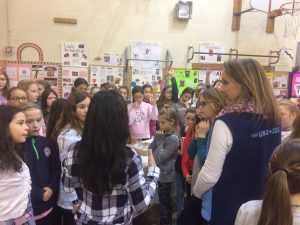 Our Pashley students asked question after question. It was a fantastic day in PE. We are excited to celebrate you today along with all the girls and women so dedicated to their sport.  #GIRLPOWER   #OLYMPIAN
WHAT DID YOU MOST ABOUT KYOKO'S VISIT?
WHO IS YOUR FAVORITE FEMALE ATHLETE?