Our True Gifts at the Holidays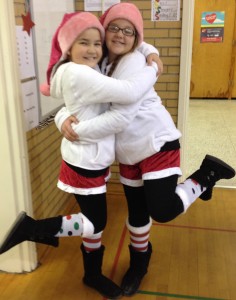 Christmas is one of my most favorite times of the year.
The smells, the lights, the music, the tree—I love it all.  What is most important about gifts, (I remind my children) and students at school, we already have…
our health!!
our families
warmth, shelter and food
ability to read, hear, sing, dance and breathe
Anything else is just the "extra" things in our life.
These cheerful elves helped deliver small gifts of appreciation to ALL our Teachers and Staff at school. No one was left out or felt forgotten.
Take time to acknowledge all the people in your world…even if it is a "greeting" of  Happy Holidays!
What other "gifts" do we already have?
What makes this magical time of year, so special for you? 
 Merry Fitness and a Happy and Healthy New Year!!